You've selected
Ticket Admission to :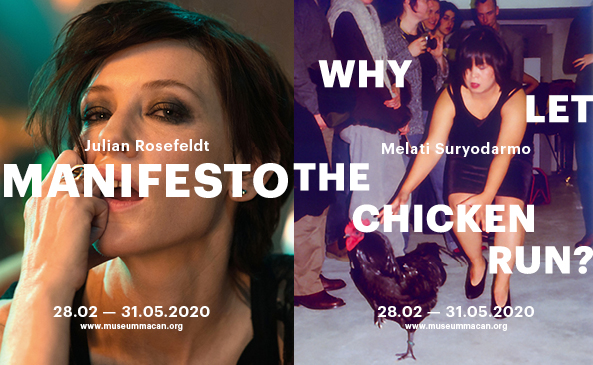 Melati Suryodarmo: Why Let the Chicken Run? | Julian Rosefeldt: Manifesto
28 Feb 2020 - 31 May 2020
Back to selection page
Melati Suryodarmo: Why Let the Chicken Run?

Melati Suryodarmo (l. Surakarta, Indonesia, 1969) adalah salah satu seniman Indonesia yang namanya telah diakui secara internasional. 'Why Let the Chicken Run?' adalah pameran tunggal pertama Melati di dalam museum, dan menampilkan karya-karya penting dari lebih 20 tahun praktik keseniannya. Pameran ini menampilkan karya-karya performans terjadwal, fotografi, video performans, serta dokumentasi yang bersifat historis.

Melati Suryodarmo (b. Surakarta, Indonesia, 1969) is one of Indonesia's internationally acclaimed artists. 'Why Let the Chicken Run?' marks the artist's first solo presentation within a museum and presents significant works from over 20 years of art practice including scheduled live performances, photography and video performances, and historical documentation.


---

Julian Rosefeldt: Manifesto

Instalasi film 13 kanal Manifesto diciptakan oleh perupa asal Berlin, Julian Rosefeldt pada 2015. Manifesto adalah sebuah bentuk penghormatan kepada tradisi dan keindahan literasi dari manifesto-manifesto para perupa. Manifesto perupa adalah pernyataan dari seorang atau sekelompok perupa, yang menguraikan motivasi dan intensi yang mereka miliki. Penyampaian pernyataan ini merupakan sebuah bentuk literatur yang dimulai pada awal abad ke-20 dan merupakan sebuah fitur umum dari setiap gerakan seni garda depan.

The 13-channel film installation Manifesto created by the Berlin-based artist, Julian Rosefeldt in 2015, pays homage to the moving tradition and literary beauty of artists' manifestos. An artist manifesto is a statement by an individual or a group of artists, which outlines their motivation and intent. It is a literary form, which began in the early 20th century and is a common feature of each avantgarde art movement.


---

Also on view :
• EXHIBITION | Radical Break – Works from the MACAN Collection
• UOB Museum MACAN Children's Art Space Commission | Color in Cave
• INSTALLATION | Yayoi Kusama – Infinity Mirrored Room – Brilliance of the Souls (2014)